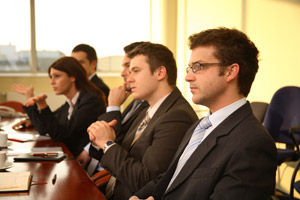 No one should have to endure the continuing pain and frustration of recovering damages alone. If you are injured at the hands of others, or have been denied benefits for a disabling injury, you need highly experienced legal advice to get you the compensation or benefits that you deserve.
Our lawyers have the experience and knowledge to help you in variety of ways. We can help victims recover damages in personal injury cases involving car accidents, medical malpractice, dangerous property conditions, or police misconduct. We help people get the long-term disability benefits to which they are entitled under Social Security or ERISA, and employees to get workers' compensation for injuries suffered in the course of employment.
See the experience our lawyers bring to their work on your behalf.
Our excellent and experienced staff of paralegals and clerks are here to serve our clients:
Melissa Hovanec
Carol Williams
Mary Scalamogna
Tammy Wagner
With offices in Pittsburgh, Southwest Ohio and Cleveland, serving Pennsylvania, Ohio and West Virginia